Slack is where your team is at all the time. So why wouldn't you want to be notified of what's going on in Intercom in Slack? You can speed up your processes and make your team more efficient when everything is in Slack. You don't have to deal with as much context switching.
You most likely want to know when new conversations are happening or when you received a new rating from a customer. We're going to take a look at the different integration options you have with Intercom and Slack.
With all of these integrations, you will need to give Intercom and Slack permissions to the integration. This will allow them to see some of your Slack and Intercom data. But they will only be using it for their specific purposes.
This is the integration that is created by Intercom. It allows you to talk to your leads from Slack.
For each new conversation it sends a notification message in Slack.

If you choose to "Reply in Channel" a new channel will be created in Slack for that conversation.
You are then able to reply back and forth just like a normal channels in Slack except the messages will be sent to the customer in the Intercom Messenger.
You can also do several other things in this new conversation channel. You can add a note, add team members to the conversation, qualify a lead, or close the conversation all with Slack commands.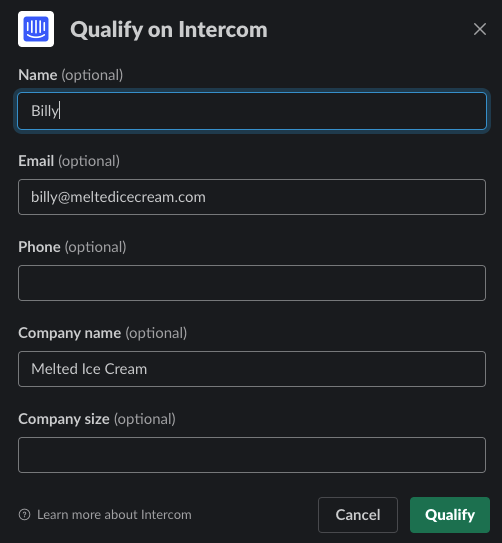 Anything that happens in an Intercom conversation will also be updated in a slack channel so others on the team can see how things are going.

Verdict
Over all this is a great Slack, Intercom integration if you want to be able to talk to customers from within Slack. This is really the only integration that has that feature. You aren't able to do everything that you can do in Intercom but this gives the basics and most of the functionality that you would expect to see.
You have most likely heard of Zapier with it's bazillion different integrations. Well they have one for Intercom and Slack as well.
How it works is pretty straight forward. You select a trigger from Intercom and then the action that you want to happen in Slack.

There are lots of combinations of options that you can make with this. You can include Intercom triggers like: New Leads, tag added to conversation, and new company. And pair them with Slack actions like: Send Channel Message, Create Channel, and Add Reminder.
Once you set this up, it works pretty much just like you would expect.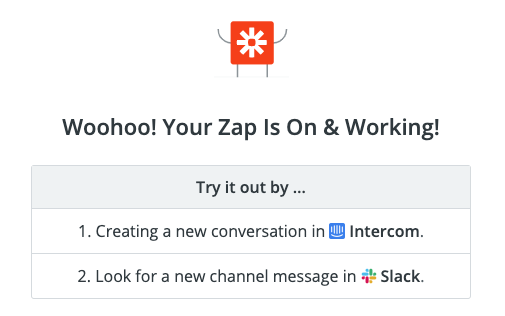 After making this zap for example I receive messages in Slack like this...

You can also create Zaps that go the other direction. Making some action happen in Intercom on a Slack trigger.
One example would be updating a companies' details from a Slack message. It is a little tricky to get these set up correctly to make sure that you are updating the right company and have all the fields needed to do it successfully.
Verdict
Zapier is a pretty good option, especially if you are used to using it. It is a little bit of work to make all the different connections that you want as you have to set up each Zap separately. Zapier is pretty good for setting up notifications in Slack but is a little bit more complicated to make actions happen in Intercom from Slack the way you want.
Automate.io is another no-code integration creator like Zapier. There are actually multiple of these that allow you to connect Intercom and Slack. Hull.io, Appypie, Xplenty, and Wyzebulb were the ones I could find. All of these including Automate.io are more or less the same as Zapier.
They all have triggers paired with actions. Automate.io was the other one that I thought was the best. It has a setup flow pretty similar to Zapier but it does have a couple of extra options on the Slack integration side.
You can specifically select what message you want to send to Slack and grab the data points from Intercom that you want.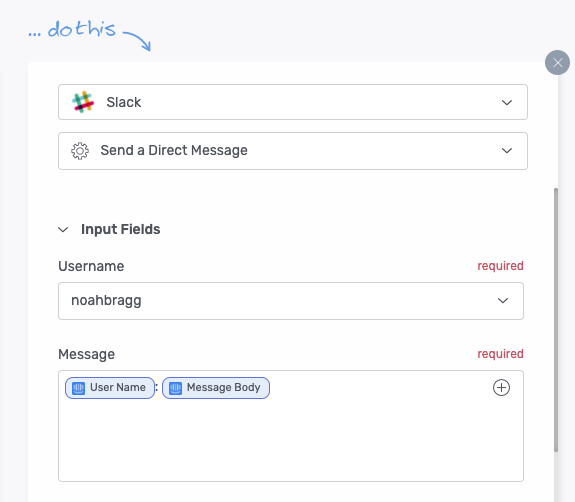 The above creates a message like this in Slack.

Verdict
Automate.io is more or less the same as Zapier. However, it does have some better ways to configure the Slack and Intercom integration.
Supportman is an integration built specifically for Intercom and Slack for support teams. It sends conversation ratings to a channel in Slack once a customer leaves one.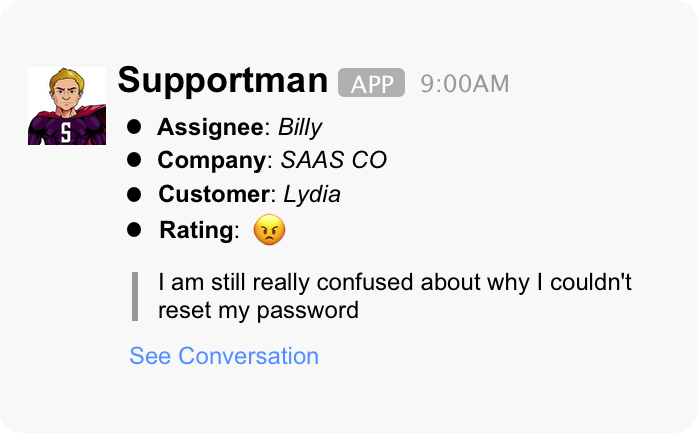 This is also useful for following up with customers that are upset. You can see the remark that they left and click "See Conversation" to respond back to them and help with the situation.
Supportman also sends weekly reports of the metrics that your team most likely cares about. Things like conversation volume, response times, and ratings.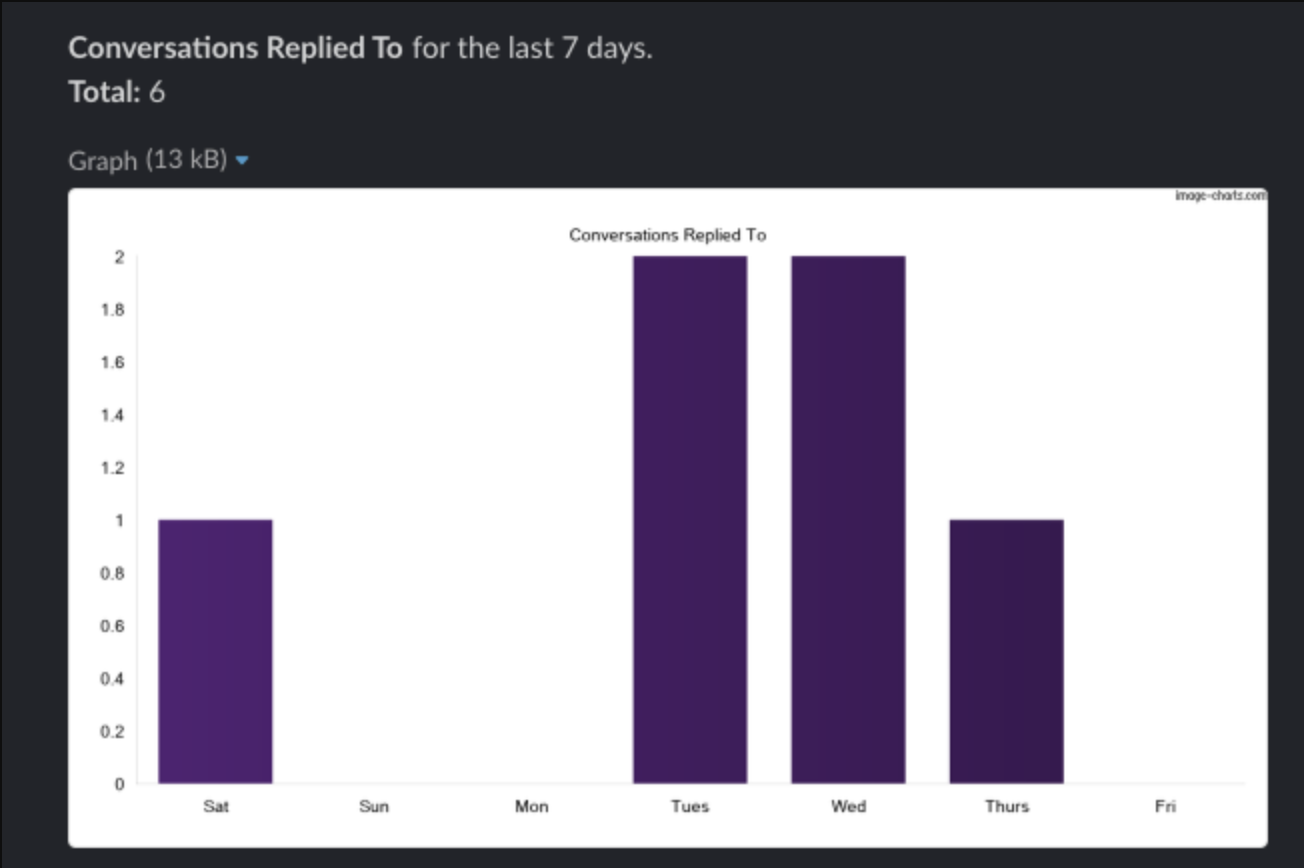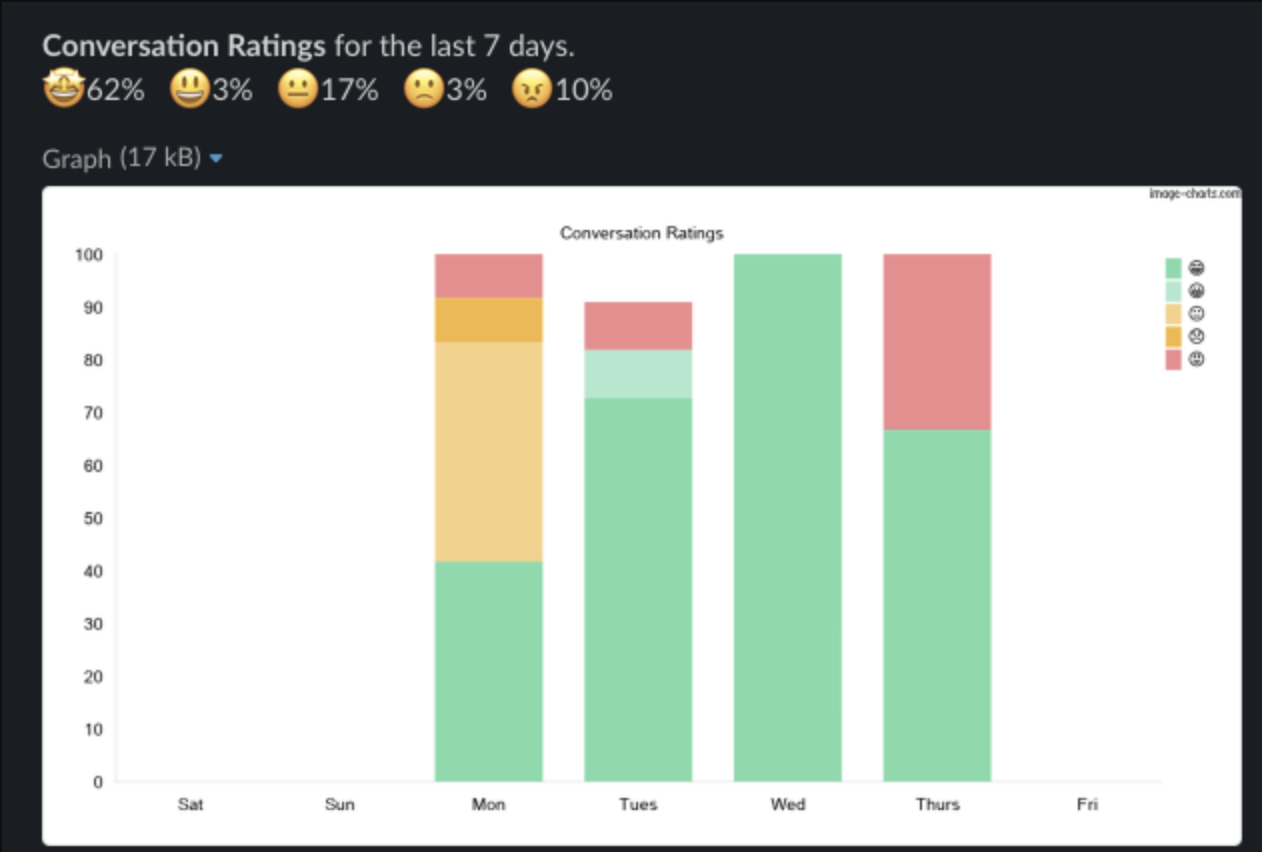 Verdict
We may be biased, but we think Supportman is a great Intercom Slack integration for support teams to help them understand how their Intercom support is going. It also allows teams to understand how their team is doing through the weekly reports.
Make Your Own Integration
If none of these integration options fit what you need, you can always make your own. Both Intercom and Slack have amazing integration libraries with great documentation. When building your own integration app, the options are just about endless.
You don't have to make an app that is public either. You can make an Intercom app and a Slack app that are only available to your company. Of course you will need to have some developer skills and spend a decent amount of time to make this happen.
You can find the Slack developer docs here and the Intercom docs here. If you need some help, we would be glad to give you a hand. Just message us in the Intercom chat at supportman.io.